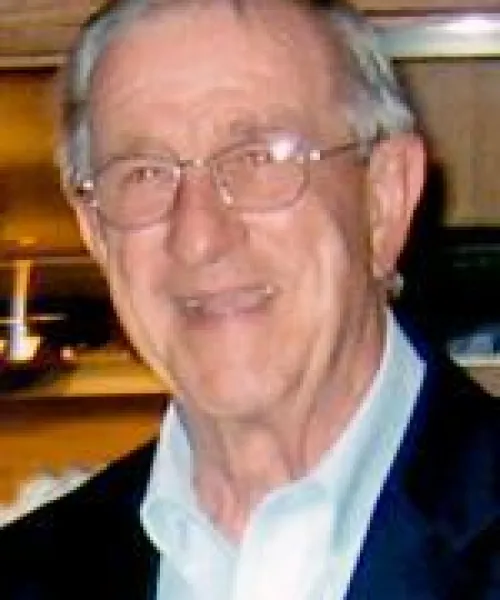 Remembering Stephen R. Haky, Jr.
1934 - 2016
Stephen R. Haky, Jr., 82, of Uniontown, left to join the love of his life, Janie Lou Haky, on Tuesday, August 30, 2016. He was born on February 26, 1934 in Uniontown, son of the late Stephen R. and Anna E. (Zira) Haky.
Steve was a graduate of St. John's High School Class of 1952, and received a Bachelor of Science Degree from Penn State University School of Business Administration. He served his country in the United States Army with the Counter Intelligence Corp based in Baltimore, MD until 1958. In 1960 he graduated from Pittsburgh Institute of Mortuary Science, and joined the family business Haky Funeral Homes which he owned and operated until 1996. He remained as Consultant and Supervisor for the Stephen R. Haky Funeral Home, Inc. at Sylvan Heights Cemetery for the past 20 years. He also was instrumental in developing Mt. St. Macrina Cemetery.

Steve was a lifelong member of St. Mary (Nativity) Roman Catholic Church, member of National Funeral Directors of America, Pennsylvania Funeral Directors Association, Southwest Funeral Directors Association, former member, past president and vice-president of the Jaycees, Uniontown, and member of countless fraternal organizations. He enjoyed sports, and was a member of St. John's High School Basketball Team, and the Fayette County Baseball League of Continental #2. He was a member of the Boxing Team at Penn State University; and the U.S. Army. Later, he enjoyed tennis, and golfing with the Fayette County Golf Association.
As a third-generation funeral director, Steve enjoyed having the opportunity to serve so many people in the Uniontown and Fayette County area during his more than 50-year career.
He is survived by daughters, Stephanie Ann Georgiana and husband Larry of Uniontown, Kristan Jane Fazenbaker and husband Stephen of Frostburg, MD, Erica Lynn Hancheck and husband Thomas, of McClellandtown, Jennifer Lynn Sterbutzel and husband Jesse of McClellandtown; and Amy Calkins of Vermont. grandchildren, Larry and Alexis Georgiana, Slater and Jacob Hafer, Stephen, Sean, and Stephanie Fazenbaker, Aaron Hancheck, Joshua and Danica Sterbutzel, Stephen, Edward, and Michael Haky; a sisters-in-law, Mary Jane Haky, Judith Shepler and husband Larry of Hickory, NC.; niece, Amy Keepper; nephew Deke Shepler; daughter-in-law, Nancy Brown; extended family members, Ron Metros, Donald and Elaine Ringer, and many close friends. He was preceded in death by son Stephen III., an infant son Richard, and his brother, Joseph L. Haky.
Steve and his family would like to thank so many, both family members and friends, who offered their assistance and friendship, each in their own special way over the past few years.
Friends will be received at the Stephen R. Haky Funeral Home, Inc., 603 N. Gallatin Ave., Ext., Uniontown, PA, on Sunday from 2-4 and 6-8 pm; and Monday until 10:30 am when Prayers of Transfer will be said. His wishes: "An admission will be charged…You must bring a smile and leave it with me as you pass by." The Funeral Mass will follow at St. Mary (Nativity) Roman Catholic Church, 61 N. Mt. Vernon Ave., Uniontown, PA, with Father Peter L. Peretti as celebrant, and Msgr Michael W. Matusak as concelebrant. Interment will follow at Mount Saint Macrina Cemetery, Uniontown, PA, where military honors will be accorded by George C. Marshall AMVETS Post 103. The Parish Wake Service will be held on Sunday at 3:30 pm in the funeral home chapel. The Catholic War Veterans will hold ritualistic services at 7 pm on Sunday.
It was Steve's wish that in his memory memorial contributions be made to St. Mary (Nativity) Roman Catholic Church or Cemetery, 61 N. Mt. Vernon Ave., Uniontown, PA 15401